This is by far the biggest protest against the Muslim brotherhood. Yes it is originally a protest against the constitutional declaration but now it turned in to anti-Muslim brotherhood protest.
I want there at 1 PM thinking that I would find small numbers but what I saw actually was growing numbers of protesters. Many of these protesters are first timers who came to protest against both the constitutional declaration.
Here are photos I took earlier today.
The Tahrir square is actually packed with people without the rallies that have not started yet in Giza or Ramsis or Shubra. There are other rallies headed from the journalists syndicate, bar association , opera house "artists rally". There is a big rally coming from Zamalek "oh yes from Zamalek" to Tahrir square. I heard that there will be two rallies coming from Heliopolis to Tahrir square.
The decision to give school students the day off increased the number of protesters.
Here is a live broadcast from Tahrir square.
@5:16 PM
So far there are hundreds of protesters roaming the streets of Tanta city. Tanta witnessed clashes between MB supporters and protesters against constitutional declaration.The protesters chant against the Muslim brotherhood and Morsi.
In Suez city , protesters began to flock to the famous Al Arabin square chanting against Morsi and the Muslim brotherhood.
In Mansoura City , Dakahalia governorate in Nile Delta hundreds of protesters blocked the main road to the governorate HQ's building in the city to object Morsi's decisions chanting anti-MB and Morsi chants.
I will post the photos from the governorates later
@5:35 PM
Here is Tahrir square from Reuters' Live broadcast as Captured by Ahram Online @5:18 PM
The official spokesperson of Egyptian armed forces Colonel Ahmed Ali
denied rumors spread online as well on some TV channels that military police stopped buses from outside greater Cairo to enter the capital
. The official spokesperson who warned from rumors saying that the military police at the entrance of Greater Cairo is there to secure the highway and is not authorized to deal with civilians
"We assure that Egyptian armed forces' only loyalty is for the Egyptian people and Egyptian territories" he added
@6:09 PM
In Alexandria , there are two marches , one of from Manshiya that is huge one. We are speaking about tens of thousands. Now situation at El Qaed Ibrahim Mosque is not that good because we got another confrontation between the MB supporters and the protesters. It turned out that the MB in Alexandria contrary to the orders they received from MB in Cairo decided to have rallies today to show "how Alexandria stands behind Morsi !!"
People fear from possible clashes between the protesters.
Now here is a snap shot from Tahrir square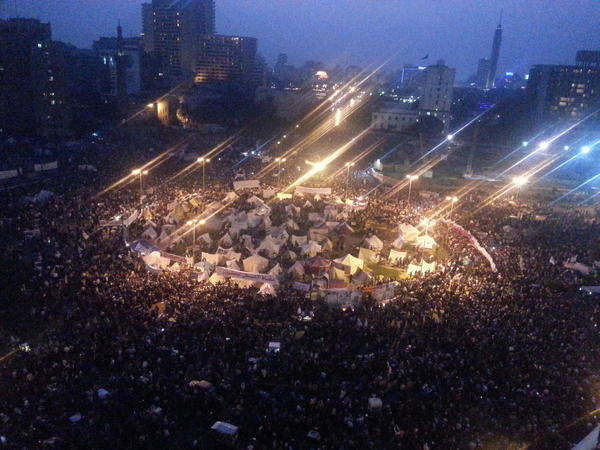 and what the Ikhwan Web is saying
We support peaceful protests & strong opposition; low protesters turnout today indicates lack of support among Egyptians unlike #Jan25
— Ikhwanweb (@Ikhwanweb) November 27, 2012
@7:16 PM
In Damietta, not less than one thousand protesters started a rally from couple of hours ago. The rally is organized by political powers like April 6 Youth, Constitution Party and Popular Current. The protesters chanted against the constitutional declaration and Muslim brotherhood. They also did not allow Ahmed Shafik and Mubarak's supporters to join them.
Back in Cairo the rallies coming from Shubra roundabout and Mostafa Mahmoud square are extremely big
@8:11 PM
Protests in Sohag , Minya , Hurghada , Luxor and Assuit as well.
Clashes in Mahla , over 30 are injured.
Here is a photo gallery from the rally in Tanta by Dr. Morgan
The presidency denied rumors that Vice president Mahmoud Mekky has resigned. Now I got leaks that there are no smoke without fire and let's just say the man is angry.