And so Israel has failed today in sabotaging Dr. Ahmed Zewail's big project in Egypt !! At least this is what famous TV host Ahmad El Muslimani hinted out in his TV show on Dream TV2 tonight as part of his comment about what happened earlier today at the disputed Nile University premises. "Israel is fighting Dr. Zewail's project , his university which will launch Egypt's big scientific project !!" This is what El Muslimani said in his TV show today.
I do not know what Israel has to do with the struggle of the Nile University and students up till this moment but I know that Mubarak's speeches writer is using the anti-Israel feelings to create sympathy with Zewail and his city for technology in the cheapest way ever !!
Strangely Zewail was awarded in Israel the Wolf Prize in 1993 and his views does not reflect anti-Israeli sentiments at least in the West !! I can not stand these double standards. 
I do not know how we foiled Israel's big plans in the region and its war on Egyptian
scientists when the security forces dispersed the sit in of the Nile University students by force in order to enable Zewail and his city from the buildings of the disputed  building premises. NU Students were dragged from the NU campus using force in front of their families and friends by police forces including some who are being arrested and will spend the night in detention pending investigation !! I do not know what victory it is !!
On Sunday the court ordered the evacuation of the NU Students to the premise after their "#OccupyNileUni" and to transfer them to Mubarak City for science and technology "MUCSAT" in the Smart Village !!
Strangely on Saturday in a TV show on Al Nahar channel Minister of higher education Mostafa Mosaa said that the students of NU can use the buildings for another year until they find a permanent solution.
Despite what happened small number of students continue in their sit in in front of the university refusing to leave up till this late hour.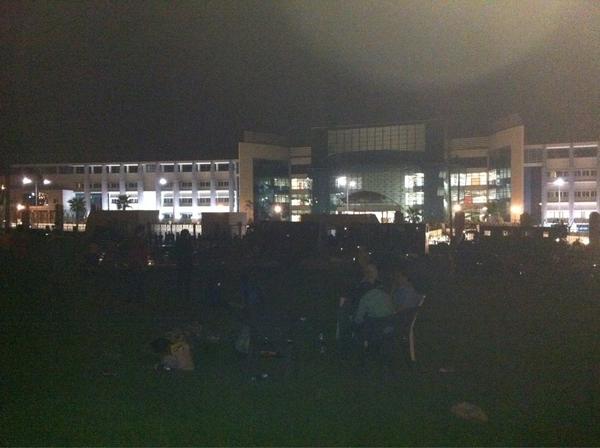 Already there is a huge development that the head of the university Dr. Tarek Khalil announced his registration objecting the attack on the students. The students issued a statement later demanding the following demands :
The immediate release of their colleagues from detention. "Already done according to news reports"
To give Nile university the right to restore its buildings and labs in Sheikh Ziyad city.
To ratify the decision of recognizing the Nile University as a National University following the state. "The most important demand. "Already in March 2011 it was announced that the Nile University has been recognized as National university"
April 6 Youth movement , Strong Egypt Party , Constitution Party , Free Egyptians Party and Egyptian Current Party announced their full solidarity with Nile University students so did many prominent political figures especially after the use of force against the students in a way I think Zewail will not like at all.
Among the prominent figures we find some of President Morsi's advisers taking a stance in solidarity with NU including Ayman El Sayyad and Ahmed Seif El Dawla. The statements of Ayman El Sayyad on Twitter already made headlines tonight in Egypt.
Speaking about President Morsi , from two days ago a man called Ahmed Soliman came to the NU sit in introducing himself as the president's envoy and according to the students he said contradicting statements that no one can understand exactly ; whether the presidency and the government is with the NU students or with Zewail !! For instance he says that the government wants the university to become a national one because national universities are better but Zewail wants the university for his city !!!!
Here is part of what he said as recorded by the students.
There is huge criticism to Morsi on how security is still being used to disperse sits in and protests by force after his election , especially today security forces also dispersed by force another sit in for public transportations workers today. This is another huge test for him now.
If I were from president Morsi and wanted to solve this huge problem , I would create reallocated the City of Zewail from October city to one of the palaces and land owned by none Other than Ahmed Nazif and other NDP cronies confiscated by the State as a revolutionary decision.
By if I were from president Morsi and wanted to solve this huge problem , I would create reallocated the City of Zewail from October city to one of the palaces and land owned by none Other than Ahmed Nazif and other NDP cronies confiscated by the State as a revolutionary decision. he way I do not like how Anti-Morsi Pro-Shafik team mainly from Amr Adeeb's specimen to use what happened today to attack Morsi regardless of what because honestly they do not support the NU or its students sincerely but rather they use to attack Morsi for their own reasons !!! By the way Ahmed Shafik is part of this problem too.
According to former PM Abdel Aziz Hegazy who heads NU's board of trustees Zewail got the land and buildings after a "nice meeting" at Shafik's house right after the revolution.
Now Zewail had to defend himself or to be accurate his office had to defend him via twitter today.
With my all due respect to Dr. Zewail but I think if he is committed to his project for real without any fear he would be in Egypt and in the location with no fear like those NU students and professors. I feel that he is acting more of a star more than a scientist when it comes to his third world country.
Now anyone who does not approve Zewail's insistence on taking over the Nile University building is considered a traitor who works for Israel according to his friend Ahmad El Muslimani.  After all the Zewail's city needs our donations to save Egypt from the danger called Israel scientifically !!