I can not believe that I will spend my time denying and repeating that
Professor Noam Chomsky
did not speak about Egypt and UAE in the so-called lecture in Columbia University from two days ago as spread by Muslim brotherhood media !!
The MB claimed that Chomsky spoke about Egyptian revolution and why the UAE is fighting the revolution and Morsi as Dubai will pay a huge price if Suez canal zone is developed !! This talk is used in the current confrontation and on going war between UAE and Muslim brotherhood.
According to my knowledge Chomsky did not say this.
First of all you can check
the official website of the world famous professor
to know if he spoke in Columbia university or not.Here is
the talk section
The last time Chomsky gave a lecture in
Columbia university was in October 2011.
Second the news is published in untrusted news websites whether Al Masryoon or Youm 7 , they are untrusted. Already it was published for one hour in Shorouk Newspaper without the knowledge of Emad Hussein , the managing editor and it was removed after knowing it was fake news.
I do no think that Shorouk is untrusted newspaper.
Third a tweet called
"Aabed Saud"
allegedly sent directly to Professor Chomsky asking him about those allegedly statements and the man denied these statements completely.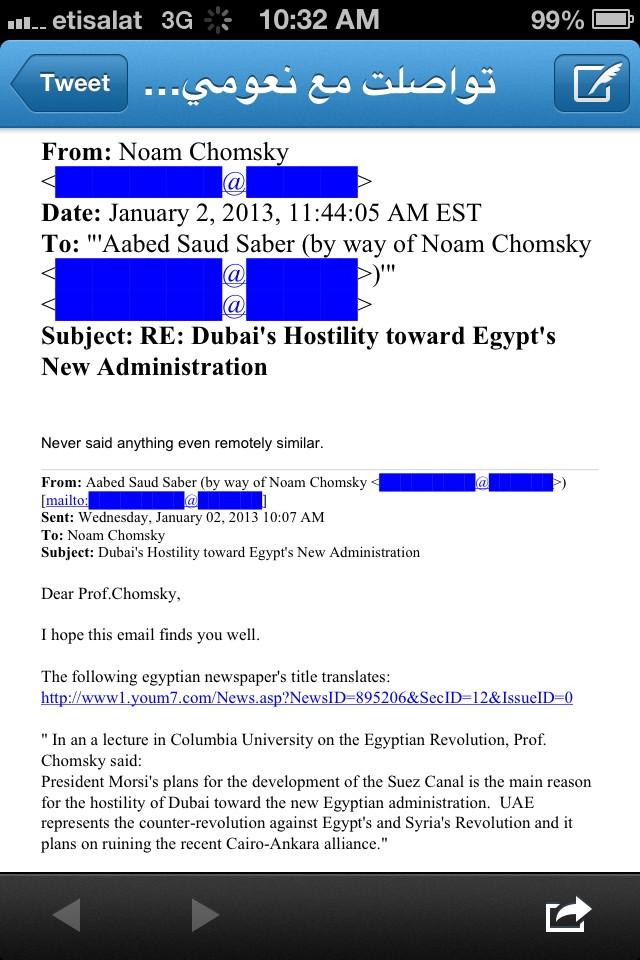 Source : Nermeen Bedair
Now when people began to search for the source of this news spread like among Islamists and Muslim brotherhood's supporters , we found out that it started as another Facebook Status page copied among the MB without any mention to Chomsky from near or far.
Dr. Ali El Zeftawy publishes the same claims in MB FB group


The case of detained Egyptians in UAE is extremely important yet it will not be solved through such rumors that will deepen the fight between the two regimes for God sake.
The last screen capture is by
@Kazakhelo