It started like any other Friday in Egypt , protests all over the country ended with violent clashes between the protesters and security forces. It is like routine, even the clashes at the presidential Palace in Heliopolis have become a usual thing with all that strange news of protesters who dare and decided to storm the fortress palace.
Still now every Friday there is a hot zone when it comes to protesting in the governorates , it is no longer Tahrir or Cairo as it seems the new wave , that new stage in the revolution began to expand in a way or another. Yesterday , on Friday
Gharbia governorate
was the Protesting governorate of the week.
Huge clashes following massive protests in Tanta governorate erupted between protesters and security forces in
Tanta city
,
Mahalla
and
Kafr El Zayat
. The unrests in the governorate especially in the city of Tanta. I believe we should have expected as these protests take place after the death and funeral of late Popular current and constitution party activist Mohamed El Gundy. Mohamed El Gundy was from Tanta's activists. He was reportedly missing last January 28,2013. He was found then after couple of days by accident in Helal Hospital. According to those who saw in the hospital, El Gundy had traces of torture over his body and his neck. The activists believe that after a verbal fight with security officer, El Gundy was abducted to a CSF camp where he was tortured till he fell into coma. That CSF camp is called "El Gabl El Ahmr" which means "The red camp" and we hearing horrifying stories from there in the past week.
El Gundy in hospital
Reuters reported that two security sources
confirmed that El Gundy was tortured there before he was transferred to El Helal Hospital.
After his death , Helal Hospital claimed that he was hit by a car and fell in to coma. This claim was spread by MB members and supporters accusing political powers and parties of using El Gundy's death for their own political interests.
Following the spread of new reports by the MB supported,
the official forensic authority revealed that it has not officially the final autopsy report about Mohamed.
El Gundy's parents believe that torture was the cause of death.
Mohamed El Gundy was from the lemon party that voted for Mohamed Morsi so Shafik would not win and we will have back the Mubarak regime.Here is
Mohamed's twitter account
. It is heart breaking.
25 يناير 2013.. اظن الرساله وصلت, شكرا
— Mohamed ElGendy (@MG_STAR) January 13, 2013
25 January 2013. I think the message has been received. Thanks
Just as Khaled Said became the icon of Alexandria , Mohamed El Gundy with his smiling face has become the icon of Tanta. Since his funeral last week in the city and the protests have not stopped by angry youth.
El Gundy and his smiling face
It is worth to mention that both Mahalla and Kafr el Zayat are from the biggest industrial cities in Egypt with long history of labor movement. The protesters are regular there but to be honest it is the first time I hear that there have been clashes and protests in Kafr El Zayat from long time unlike the revolting Mahalla.
The protests yesterday in Tanta are being described as the biggest from long time ago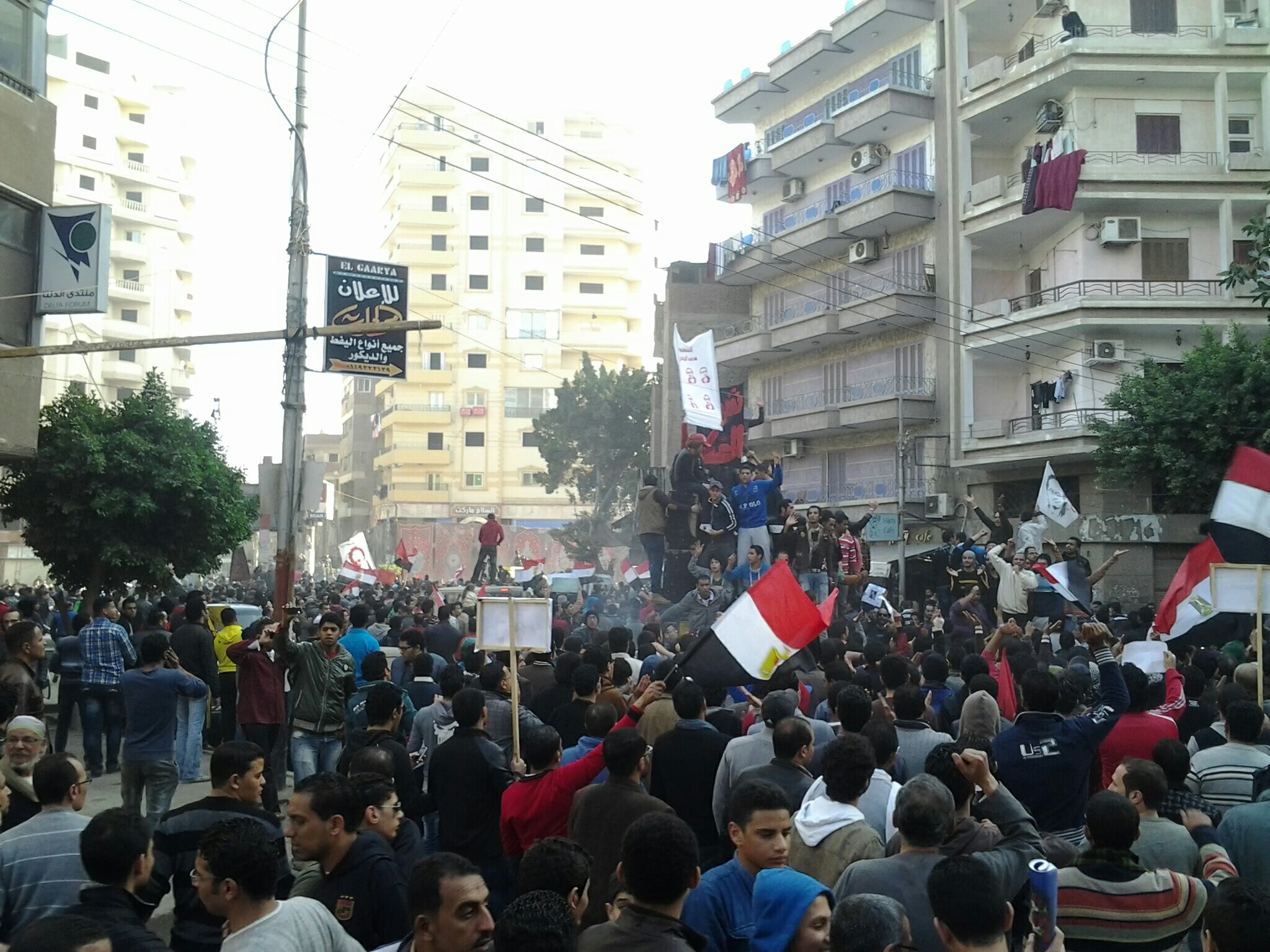 The protest before it turned in to clashes by @M7M
Amazingly once again the TV cameras catch Police forces red handed using gunshots against the protesters faraway from the security directorates according to Tanta locals who saw the video.
The security forces claim that it was defending the Security directorate from angry protesters that hurled Molotov cocktails against the building.
From Tanta City : Police using birdshots against protesters.
Police forces wear beige in the governorates outside Cairo. It is clearly that the police forces were standing besides armed men wearing civilian clothes. We do not need to guess who these people are.
Now question : why do not the security forces use water pipes in those cold days instead of shot guns like that !?
Anyhow it seems that Tanta will join Port Said and Alexandria soon when it comes to action.